CFD is sponsoring the Running of the Bulls 8K on Saturday, June 1st! 
Volunteers needed to help with our water station from 6:45-7:45am at the corner of Geer and Washington St. 
Sign up on the whiteboard!
WOD for Saturday 052513 –  Click Here For Today's Schedule
Warmup (to be completed on your own BEFORE class starts):
3 Rounds of CF Warmup – 10 pass throughs, 10 OHS, 10 pushups, 10 situps, 10 pullups
Strength:
Make up any missed strength segment from the past week
Conditioning:
"Michael"  
3 Rounds For Time:
Run 800m
50 Back Extensions
50 Situps

Post Strength Work and Workout Time Comments
For the strength segment, you have 25 minutes to make up a strength segment that you missed from this previous week
This is a Strength & Conditioning Hero Workout, in honor of Navy Lieutenant Michael McGreevy, 30, of Portville, NY, who was killed in Afghanistan June 28, 2005.  Back Extensions may be done on the GHD, but Situps should be done unanchored on an Abmat.  You should only do GHD situps if you are well conditioned to them, ie you do 50-100 reps on a regular basis.  Do not be fooled by the simplicity of this workout!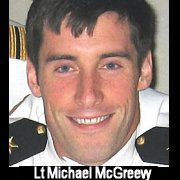 MOBILITY WORKOUT this morning at 10am!
COMMUNITY WORKOUT today at 11am!
OPEN GYM today from 11-1:30!  Barbell Club has priority over space and equipment.
Memorial Day Weekend Schedule
Sunday – Regular Schedule
Monday – "Murph" at 9, 10, and 11 for all CF athletes and Bootcampers