There is NO 6:15 WOD today.  All other WODs are on!

NEW BOOTCAMPS COMING JANUARY 10th! 
Forgot Someone On Your Holiday List?  Check out our Stores at
Zazzle
 

and
Cafe Press
!
WOD for Monday 122710 
"Whitten"
5 Rounds For Time:
22 KB Swings (70/52)
22 Box Jumps (24/20)
Run 400m
22 Burpees
22 Wall Ball (20/12)
Post Time to Comments
This is s Strength & Conditioning Hero WOD.  THANK YOU to all the men and women serving overseas this holiday season to help keep us safe!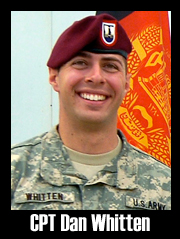 Army Captain Dan Whitten, 28, of Grimes, Iowa, assigned to the 1st Battalion, 508th Parachute Infantry Regiment, 4th Brigade Combat Team, 82nd Airborne Division, based out of Fort Bragg, NC, died February 2, 2010, when enemy forces in Zabul, Afghanistan attacked his vehicle with an improvised explosive device.  Whitten is survived by his wife, Starr Whitten, his mother, Jill Whitten, his father, Dan Whitten, and his sister, U.S. Army Captain Sarah Whitten.
ENDURANCE WOD tonight at 6pm!
Row
16 Rounds
20 seconds on, 10 seconds off
*NEW YEAR'S WEEK SCHEDULE*
Friday — No Evening WODs
Saturday — TBD
Sunday — Regular Schedule    
Upcoming Bootcamps — Starting January 10th — SAVE 10% before 12/31
Strength & Conditioning Bootcamp – (M/W/F @6:15am)
Strength & Conditioning Bootcamp – (M/W/F @7:15am)
Strength & Conditioning Bootcamp– (M/W/F @6:00pm)
Weight Loss Bootcamp– (M/W/F @7:00pm)
Upcoming Foundations Courses
Starting January 4th – (Tues/Thurs @7pm) – Only 3 spots left!
Starting January 25th – (Tues/Thurs @7pm)

Upcoming Events
Strength & Conditioning Rowing Foundations Certification – Saturday, January 15
Intra-Gym Challenge – January 2011
Triad Barbell Open — Sat, February 26th, at CF Downtown Winston
Durham Indoor Rowing Trials — Sun, February 27th