Official Nutrition Guide Rollout TOMORROW 12-1:30!
Durham Indoor Rowing Trials – February 27th!
WOD for Friday 021811  – Click Here For Today's Schedule 
Weighted Pullups
5 sets of 5 reps
–Rest–
"Wittman"
7 Rounds For Time:
15 KB Swings (52/35) 
15 Power Cleans (95/65)
15 Box Jumps (24/20)
Post Pullup Loads and Metcon Time to Comments
For the strength segment, perform 5 sets of 5 Weighted Pullups.  These should be strict dead hang pullups. 
This is a Strength & Conditioning Hero WOD.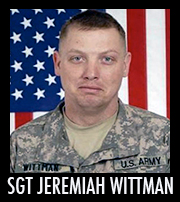 U.S. Army Sergeant Jeremiah Wittman, 26, of Darby, MT, assigned to the 1st Battalion, 12th Infantry Regiment, 4th Brigade Combat Team, 4th Infantry Division, based out of Fort Carson, CO, was killed on February 13, 2010, when insurgents attacked his unit with a roadside bomb in Zhari province, Afghanistan.
He is survived by his daughters Miah and Ariauna, wife Karyn, siblings Robert H., Charity, Jenell, and Natasha, father Robert, and mother Cynthia Church. 
OPEN GYM tonight from 7-8pm!   Make up a missed WOD or work on your lifts!
Upcoming Bootcamps — Starting March 7th – SAVE 10% by 2/25 
Strength & Conditioning Bootcamp – (M/W/F @6:15am)
Strength & Conditioning Bootcamp – (M/W/F @7:15am)
Strength & Conditioning Bootcamp– (M/W/F @6:00pm)
Weight Loss Bootcamp– (M/W/F @7:00pm)
Upcoming Foundations Courses
Starting March 29th – (Tues/Thurs @7pm)
Starting April 19th – (Tues/Thurs @7pm)
Upcoming Events
Nutrition Guide Rollout Session – Saturday, February 19
Triad Barbell Open — Sat, February 26th, at CF Downtown Winston
Z-Fit Dynamic Mobility Seminar– Saturday, March 19
Durham Indoor Rowing Trials — Sun, February 27th