WOD for Thursday 112212 – WODs today at 9 and 10am
"Klepto"
4 Rounds For Time:
27 Box Jumps (24/20)
20 Burpees
11 Squat Clean (145/105)
Post Workout Time to Comments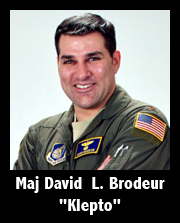 U.S. Air Force Major David "Klepto" L. Brodeur, 34, of Auburn, MA, assigned to the 11th Air Force, based at Joint Base Elmendorf-Richardson, AK, died on April 27, 2011 in Kabul, Afghanistan, of wounds sustained from gunfire from an Afghan military trainee.
Thanksgiving Week Schedule
Thursday – Hero WOD @ 9 and 10am
Friday – Yoga @ 9am, WOD @ 10 and 11am
Sat/Sun – Regular Schedule
Happy Thanksgiving!
[youtube]https://www.youtube.com/watch?v=-z27FKwupds[/youtube]
Black Friday Yoga Class with Lexy!
Friday, November 23rd at 9am!  RSVP

here