Happy Veterans Day and THANK YOU to all who have served!
Carolina Fitness Challenge coming December 11th!
Volunteers Needed!  Email Dave if you'd like to be a volunteer
WOD for Thursday 111110 — – Click Here For Today's Schedule 
"Jerry"
For Time:
Run 1 Mile
Row 2000m
Run 1 Mile
Post Time to Comments
There is NO ENDURANCE WOD tonight!
Upcoming Foundations Course– FINAL CLASS OF 2010!
Starting Thursday, December 2nd (Tues/Thurs 7pm)
Upcoming Events
Strength & Conditioning Gymnastics Certification – Sat/Sun, December 4/5
Carolina Fitness Challenge – Sat, December 11
Strength & Conditioning Rowing Foundations Certification – Saturday, January 15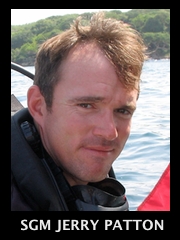 Sgt Major Jerry Dwayne Patton, 40, died on 15 October 2008 during High Altitude High Opening (HAHO) training while assigned to Army USSOCOM preparing for deployment to Afghanistan. Jerry is survived by his wife Molly and his sons Chad, Cody, Chase and Connor.