WOD for Saturday 012112 — Click Here For Today's Schedule
"Nate"
AMRAP in 20 minutes:
2 Muscle Ups
4 Handstand Pushups
8 KB Swings (70/52)
Post Workout Time to Comments
This is a Strength & Conditioning Hero Workout.  Scale movements and loads as necessary to limit rest times.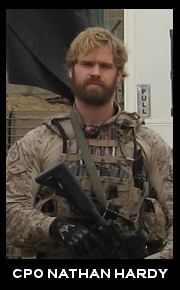 In honor of Chief Petty Officer Nate Hardy, who was killed Sunday February 4th during combat operations in Iraq.
Nate is survived by his wife, Mindi, and his infant son Parker.

There is no ENDURANCE WORKOUT today!  ENDURANCE WORKOUT will now be held on Sunday Mornings at 9am with Coach Paul!
MOBILITY WORKOUT and COMMUNITY WORKOUT today at 11am!  PILATES today at noon!